Capabilities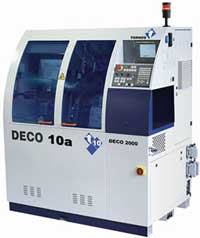 Deco 10a
TORIN has two versions of DECO 10: 7-axis with counter-spindle and 9-axis with counter spindle and end working
7 and 9 axes with end attachment and counter spindle
For part diameters up to 10mm; up to 20 parts per minute; machine with 4 tools simultaneously
Independent control of all programmable axes.
PNC-DECO™ control with electronic hand crank has no physical angular limits, all axes simultaneously managed, no unproductive times
Windows™-based TB DECO™ software for easy programming, real time calculations, graphic simulation of paths, ISO compatibility
Automatic bar loaders
Fast and reliable
Deco 13A
TORIN™ has two versions of DECO 13: 10-axis; and 12-axis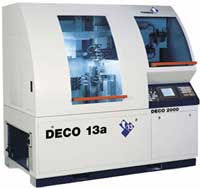 Very complex parts
Ideal for medical and dental parts.
TB-DECO™ allows programming of the Deco machine on any Pentium 400 PC with 64MB RAM via Ethernet cable or memory card
For part diameters up to 13mm
Independent control of all programmable axes
PNC-DECO™ control with electronic hand crank has no physical angular limits, all axes simultaneously managed, no unproductive times
Windows™-based TB DECO™ software for easy programming, real time calculations, graphic simulation of paths, ISO compatibility
Marubeni Citizen K16
Improved productivity for complex machining, TORIN utilizes the complete production capabilities of the Citizen K16 for precision screw machine parts
Higher accuracy, cost reduction and quick delivery are important aspects for the efficient machining of precision parts. The K series new generation type CNC automatic lathe was developed to help satisfy such demands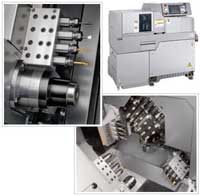 Streamline Control drastically reduces cycle time
Productivity is 1.5 times higher than conventional models
Stable machining operation over longer periods of time
Tool spindle for secondary machining improves performance of complex machining
Although the machine is compact in size, it is equipped with up to four quill spindles or end-face drilling spindle (option) to support various types of complex machining. In addition, a variety of designs and devices have been adopted in the K16 for extended, stable machining operation and prolonging the life of the machine.
Significant increase of productivity. Drastic reduction of lead time.
Index ABC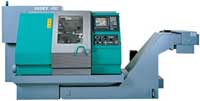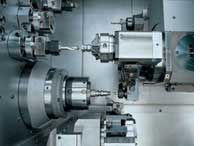 For increased speed and flexibility, TORIN utilizes the complete production capabilities of the Index ABC for precision screw machine parts.
Quick, flexible and economical machining from simple screw machine parts to medium complex parts
Extremely short cycle times due to simultaneous machining with up to 3 tools
4-axis version for demanding turning parts
Driven tools for complete machining
Backworking with up to 5 tools
Find out how the benefits of constant surface speed programming allows for optimum cycle times, better tool life and consistent workpiece finishes. Call today!
The clearly structured work area with upper turret mainly for I.D. work and lower turret particularly for O.D. work. Up to 6 backworking stations complete the tooling array. These stations are mounted above the main spindle. They service the synchronized spindle in the upper turret.