About Us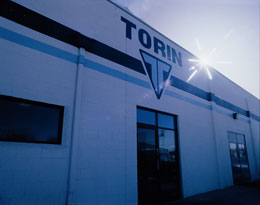 TORIN Products, Inc. is an ISO 9001 and AS9100 accredited custom manufacturer of high precision stainless steel & exotic metal screw machine components & turned parts.
Founded in 1965, the Company's key personnel average over 20 years of experience with TORIN Products, Inc.
We serve all industries, with a focus on the medical/dental, electrical component, hydraulic, military, firearm, automotive, computer data storage hardware & aerospace industries.
Examples of turned product types include: adapters, adjusting nuts, end caps, bodies, bushings, cones, contacts, rings, ferrules, firing pins, header shells, hex nuts, housings, guides, lever pins, locating pins, needle valves, ports, pistons, pivot pins, plugs, probes, retainers, retaining rings, rod actuators, rollers, screw housings, shafts, sleeves, sliders, spacers, spring pins, stems, studs, terminals, valve bodies & washers.
Secondary capabilities include, but are not limited to, centerless grinding & cylindrical grinding, CNC & conventional milling, thread rolling, drilling, chuckers, honing & assembly.
TORIN Products, Inc. prides itself on its ability to manufacture precision screw machine parts to the tightest tolerance: +/- .0001 on diameters & +/-.0002 on lengths.
The production capabilities allow it to manufacture parts up to1 5/8 inches outside diameter & lengths up to 6 inches.
Typical materials used include: aluminum, brass, bronze, beryllium copper, greek ascoloy, hastelloy, inconel, titanium, kovar, 303, 304, 316, 347, 416, 420, 440, 17-4 PH stainless steels.
SPC data can be furnished on customer request.
Management Bios
Tom Bernstein — CEO
Tom has served as President of TORIN Products, Inc since 1994. 30 years ago he joined his Dad, company founder Tom Bernstein, Sr., as Quality Manager. Prior to that, he spent two years as a Swiss Department Supervisor and Manufacturing Engineer for Bourns, Inc. He received his Bachelor's degree from Iowa State University in 1980, majoring in Industrial Education with an emphasis in Manufacturing. In his spare time, Tom enjoys traveling and is an avid pilot.